---
Visit
Visit our shop to purchase traditional Welsh "tapestry" bedspreads, travel rugs and tweeds woven on site. Our fabrics are made up into throws, cushion covers, capes, hats, caps, bags, purses etc. We also stock a wide range of bought in pure wool knitwear and accessories, sheepskin goods and gifts.
For sat nav follow LL27 0RZ. We are situated in the centre of Trefriw on the B5106, five miles north of Betws-y-Coed.
Our shop is open all year: Monday - Saturday: 10 a.m. - 5 p.m. except Dec 25th, Dec 26th, Dec 27th, Dec 28th 2021 and Jan 1st and Jan 3rd 2022. Visit our shop for pure wool bedspreads, travelling rugs, Welsh tapestries and tweeds woven on site. Our fabrics are made up into ladies' garments, hats, bags, purses, cushions, throws etc. We also stock bought in knitwear and accessories in pure wool plus sheepskin goods to compliment our own products. As our smaller items and bought in stock change regularly, they are not available to order online.
Watch the cloth grow as we weave our Welsh tapestry or travel rugs on a Dobcross loom which is over 50 years old. Weaving can usually be viewed through windows in the shop: March - December 17th 2021, Monday - Friday 11 a.m. - 12 p.m. and 2 p.m. - 4 p.m. Please ring on the day to check if you are making a special journey to see the weaving.
Our water powered turbine can be viewed through a window in our shop. It dates from the 1940s and generates the electricity to power the mill. Some of the water in the river Crafnant is diverted into a pipe about 340 metres upstream. The water from the pipe turns the pelton wheel inside the turbine which drives the alternator.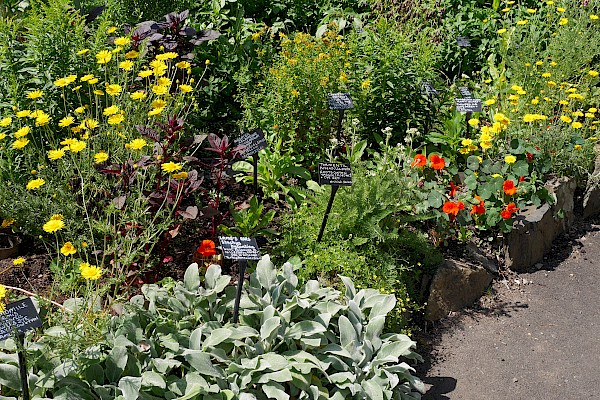 The Weaver's Garden (at best June - Sept) contains plants connected with textiles which are all labelled to show their uses. We have plants which provide fibres, soap substitutes, natural dyes, moth repellents, textile tools etc. Open during shop hours.
Our tearoom is not open this year and the mill museum is not open to the public. Weaving can usually be viewed Mon - Fri, 11 a.m. - 12 p.m. and 2 p.m. - 4 p.m. (until December 17th 2021) Please telephone at least a day before visiting.
Access Statement for Trefriw Woollen Mills, Trefriw, Conwy Valley, N. Wales, LL27 0NQ. Trefriw Woollen Mills is situated on the B5106 in the centre of Trefriw. Parking and car drop off area is situated outside the shop - please reverse in as there is limited space for turning.